Amateur Science That is Anything But Amateur
As the new coordinator of the Naturalist Program, my goal is to cultivate a space for students to feel they belong, both within the program and also in science overall. With 21st Century technology and the brain elasticity of teens—getting involved with citizen science has never been easier.
However, no one could have predicted the effects that the pandemic would have on shaping the challenges and first few months on the job.
The Naturalist Program is a new educational initiative geared toward rising ninth graders in Worcester interested in learning about natural science, careers in STEM, or museum work. This three-year, cumulative program will follow the schedule of the school year and will include hands-on, interactive activities, projects, and exploration of the museum's collection. Though this particular iteration of the program is new, this is not the first time there has been a Naturalist Program at the EcoTarium. The former participants from years ago – now adults – have spoken fondly of finally finding a space where they felt they belonged.
The first two years of our refreshed Naturalist Program focus on New England Ecology and STEM careers, featuring units on owls, reptiles, birds of prey, freshwater fish, amphibians and more.
If there's a particular kind of indigenous New England animal or ecosystem that a participant loves—we probably will focus on it! And if you're a participant who really wishes there was a certain relevant topic of interest that is somehow lacking from the curriculum, we can definitely try to make it happen. As the program progresses, each month will have a different theme with corresponding citizen science projects, museum projects, and field trips. Citizen science is science conducted by amateur scientists (anyone can be an amateur scientist!). Activities include: examining collections items to study comparative anatomy for birds, bats, and humans, dissecting owl pellets, practice tracking animals by paw print, scat, and other signs, learning to identify plants, animals, and other organisms by field guide, dichotomous key, and smartphone apps, performing a soil survey and learning about endangered organisms or organisms of special concern in Massachusetts, like the Orange Sallow Moth.
Year three will include rotations of paid internships in various departments in the museum so youth can gain experience working with the Collections, Wildlife, Exhibits, and Education departments. Maybe someone will be inspired by this program to be an ornithologist! Through participation in the Christmas Bird Count or HawkWatch, I would be thrilled if someone developed a passion for birds and bird watching.
But, back to the pandemic. I couldn't have known the difficulties that I'd be facing when I took the job. Transitioning from an office space in the museum to working from home has been a personal challenge for me–as I'm sure it has been for a lot of other people too!
Right now, due to school's early closure, it's difficult for teachers to get in contact with students and their families—thus making recruitment for the Naturalist Program more difficult.
Additionally, nobody really knows for sure what school or public life is going to look like come September. Will we be able to go on the trips I want to plan? Will guest speakers feel safe to, and be willing, to come into the museum? (How do I ask them in a way that isn't, "If the world still exists as we know it in the fall, do you want to come speak to some really cool ninth graders?")
It's comforting to know that everyone is in a similar boat. There's a lot of uncertainty about how our daily routines will look when we can start reintegrating but we'll all be figuring it out together.
In the meantime, I'll continue planning activities and projects for those really cool ninth graders I plan to see in the fall.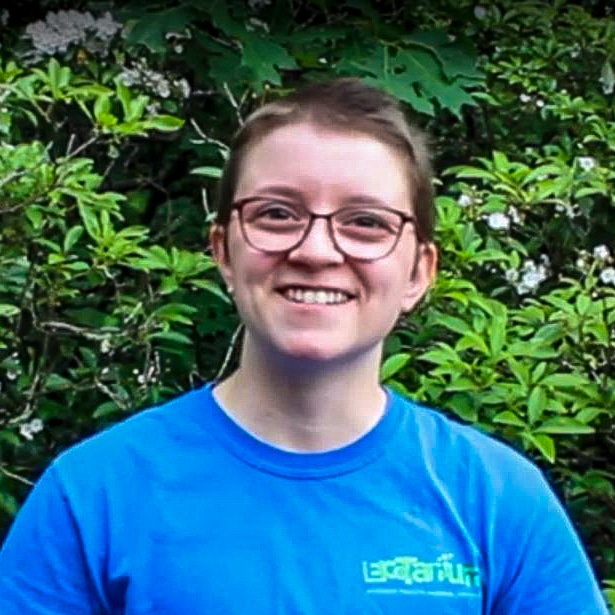 Jake Dziejma has worked at EcoTarium since September of 2018, first as a museum educator and now as the Naturalist Program Coordinator. He graduated from Worcester State with a degree in geography (and many summers of nature camp under his belt). He lives in Worcester and has a pet Milk Snake named Davey Jones.