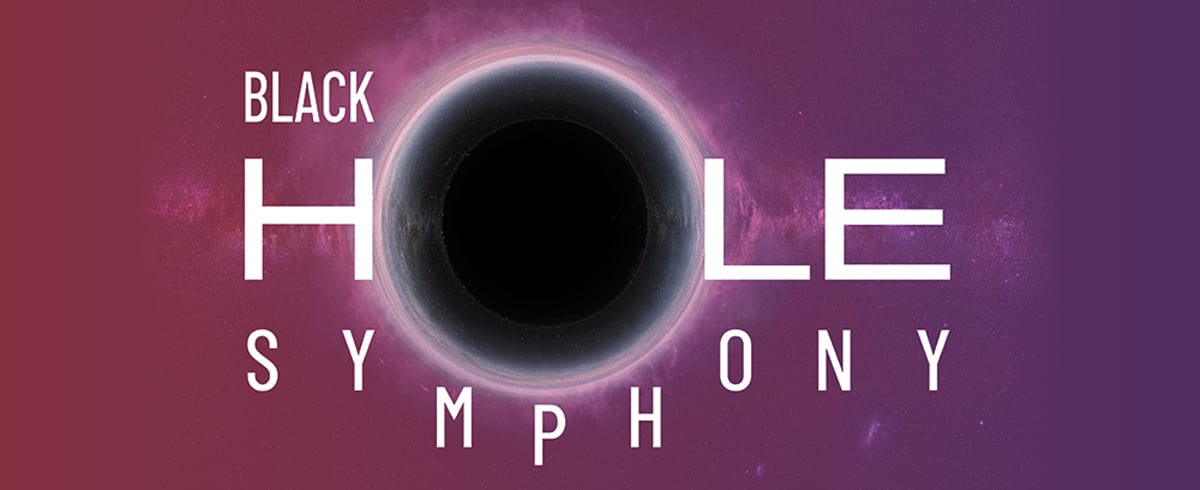 Black Hole Symphony
Saturday, December 17th
6:00 pm & 8:00 pm
Don't miss this entrancing and immersive new production from the Museum of Science, Boston and Multiverse Concert Series!
Black Hole Symphony is a symphonic journey through spacetime, performed by a live chamber orchestra under the dome of our Alden Planetarium. Join us to explore the unfolding story of supermassive black holes as engines of gravity, light, and creation.
This revolutionary new show is a unique collaboration between astrophysicists of the Harvard-Smithsonian CFA and Black Hole Initiative with the musicians of the Multiverse Concert Series. Composer David Ibbett has sonified the light of black hole galaxies as musical notes and chords, woven into a dramatic electro-symphonic score set to immersive 3-D visuals that will be projected onto the Alden Planetarium dome.
Over the course of an evening, audiences will be plunged into deep space riding relativistic jets of plasma, guided through the dense dust torus, broad-line clouds, and ultimately reach the blazing accretion disk on the event horizon of a supermassive black hole. Experience the wonders of the distant universe through art, science and music!
Science Presenters:
Professor Douglas Petkie; Physics Professor and Department Head, WPI
Professor My Nguyen; Assistant Professor of Physics, Quinsigamond Community College
Patrick O'Mullan; WPI Physics Graduate
Music by:
David Ibbett; composer and conductor
The Multiverse Symphony Players:
Sarah Coffman; Soprano
Sarah Ibbett; Violin
Jessica Smith; Flute/Piccolo
Visual Design by:
The staff of the Charles Hayden Planetarium at the Museum of Science, Boston
Produced by:
The Adult Programs & Theater Experiences team at the Museum of Science, Boston, and Multiverse Concert Series
The 6:00 show includes an offer for VIP tickets. Individuals joining for the VIP event from 5:00 - 6:00 pm will enjoy an open bar and opportunity to meet composer, David Ibbett before the show. 
---
6:00 Show Tickets - SOLD OUT
8:00 Show Tickets - SOLD OUT