Amusement Park Science (Exhibit Opening)
Our thoughts are with you, your family and everyone throughout the world who has been impacted by COVID 19. The EcoTarium remains committed to protecting the health of our entire community. Consistent with our partner the Worcester Public School District, the museum will temporarily close through April 6. The situation will continue to be assessed as it evolves. Learn more at: https://ecotarium.org/visit-us/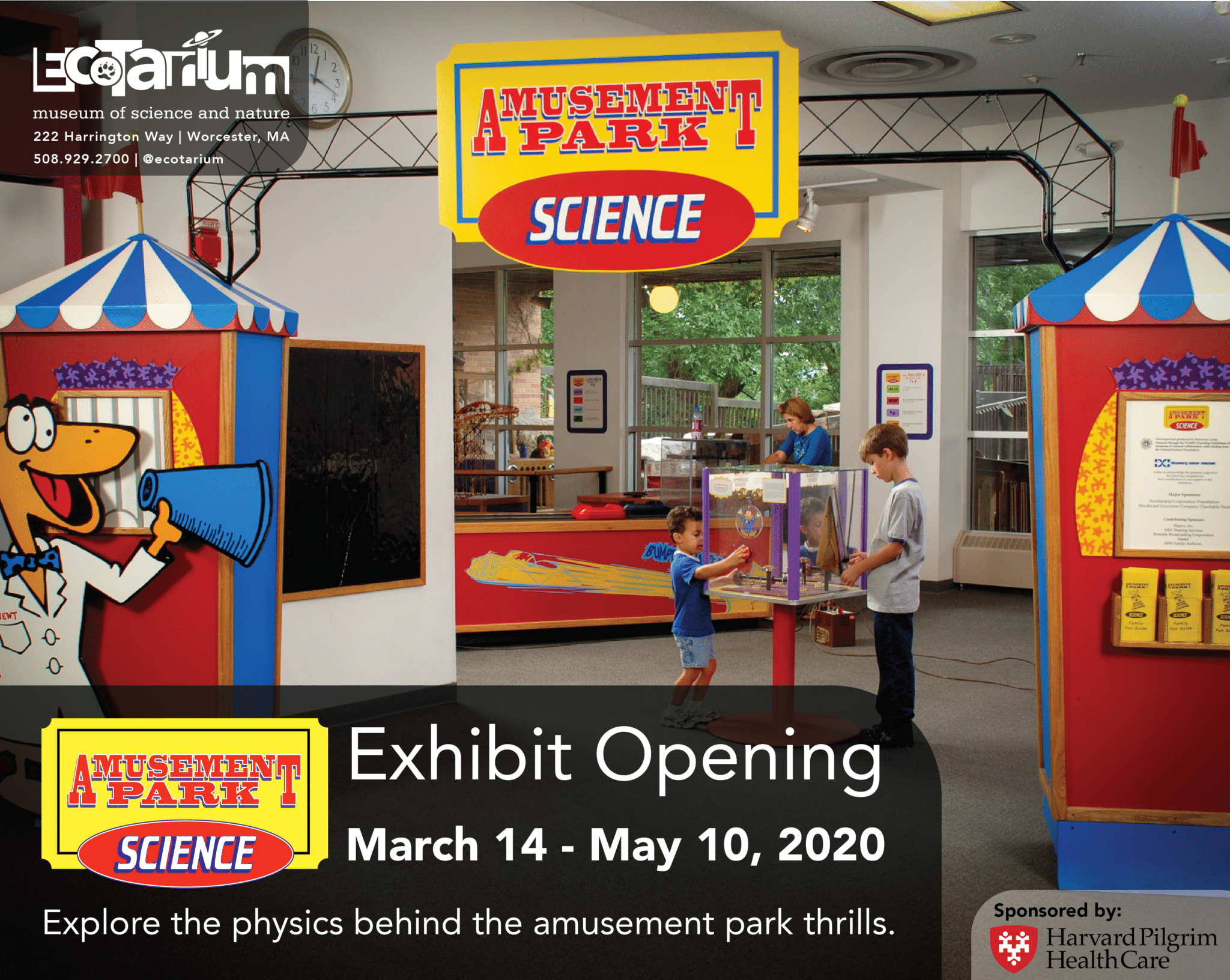 Amusement Park Science invites visitors to explore a dozen different interactive features that provide a hands-on taste of how our favorite amusement park rides work including great interactives like Bumper Blaster, Create-A-Coaster, Wild Wheels Road Block, Magnetic Circus, and Wild Rides Video Kiosk.
Event is included with museum admission. EcoTarium members enter free year-round and do not need to pre-purchase tickets.
Opening Day Programs: 
10:30 a.m. – 12:30 p.m. & 1:30 – 3:30 p.m. Innovation Stations: Drop by one of our amusement activity tables to experiment with balance, friction, gravity, and all the forces that make rides fun!
11:00 a.m.: Animal Storytime: Happy Pi Day! As we celebrate the opening of Amusement Park Science, we'll also honor an essential mathematical ratio (and a delicious circular dessert). Come for a special story, and meet an animal ambassador.
1:30 p.m.: Stable Structures Challenge!

Amusement park rides have to withstand all kinds of forces: heavy wind, nonstop vibrations, and LOTS of wiggly humans. Use your engineering skills to design a structure that can hold up, then put it to the test!  

2:30 p.m.: Ramps! Ever have fun shooting down a waterslide? Discover the magic of the inclined plane, test different shapes and materials, and experiment with fun factors like height, angles and altitudes to design the speediest slide yet!
Sponsored by: