April 8, 2020 @ 3:00 pm - 3:40 pm
|
Recurring Event
(See all)
An event every week that begins at 3:00 pm on Sunday, Wednesday and Friday, repeating until April 22, 2020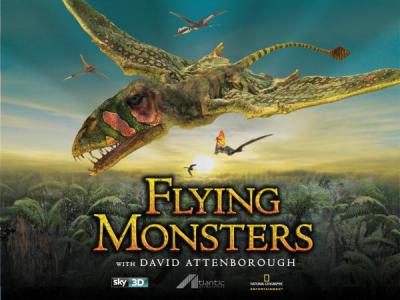 Two hundred twenty million years ago, dinosaurs were beginning their domination of the Earth. But another group of reptiles was about to make an extraordinary leap: Pterosaurs were taking control of the skies, and the story of how and why these mysterious creatures took to the air is more fantastic than fiction.
In Flying Monsters, Sir David Attenborough, the world's leading naturalist, sets out to uncover the truth about the enigmatic pterosaurs, whose wingspans of more than 40 feet were equal to that of a modern jet plane. Attenborough works with scientists and engineers to understand the incredible story of their evolution. It's a story told through a tour of diverse habitats such as Big Bend National Park in Texas, Lyme Regis in Britain, and China's remote Liaoning Province, as well as through stunning re-creations of the prehistoric world of the pterosaur.
For Attenborough, this is the central question and one of the greatest mysteries in paleontology: How and why did pterosaurs fly? How did lizards the size of giraffes defy gravity and soar through prehistoric skies? The answers to these questions also give rise to new theories of flight itself.
Audience: Recommended for ages 6 and up
Run Time: 40 minutes
Source: Produced by National Geographic Entertainment and Atlantic Productions
Cost: $5.00 for members / $6.00 for non-members plus admission