(Cancelled) National Geographic Live speaker series in partnership with The Hanover Theatre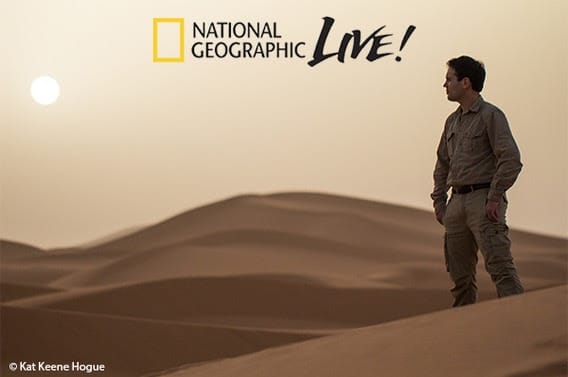 Out of caution, and to help mitigate the spread of COVID-19, this Monday's performance of National Geographic Live with paleontologist Nizar Ibrahim has been cancelled. 
The following options are available to you:
Leave the credit in your account in the form of a gift certificate to be used toward a future performance of your choice. The credit will not expire.
Donate the value of your tickets, or a portion thereof, and receive a tax deduction.
Receive a full refund to the card you used to purchase tickets.
Transferring your ticket to a donation or accepting a credit to a future performance supports The Hanover Theatre during these unprecedented and uncertain times, and we appreciate your consideration.
Please click here to fill out a short form indicating your choice and we will process your request. Our box office is extremely busy today. Please note that it is not necessary to reach us prior to performance time to receive a refund.
Any changes or cancellations for other upcoming performances and conservatory classes will be communicated to patrons.
Thank you for your patience, consideration and continued support.
---
Ibrahim, a postdoctoral scholar in vertebrate anatomy and paleontology at the University of Chicago and 2014 National Geographic Emerging Explorer, scours the deserts of North Africa for clues to life in the Cretaceous period, when the area was a large river system teeming with a profusion of diverse life. In addition to unearthing many huge dinosaur bones, he has discovered fossil footprints and a new species of flying reptile with an 18-foot wingspan that lived 95 million years ago. Ibrahim's remarkable story and the findings of an international team of scientists were published in the journal, "Science," and as a cover story for "National Geographic" magazine. What has been unveiled appears to be the first truly semiaquatic dinosaur, Spinosaurus aegyptiacus. In 2014, Ibrahim was named a National Geographic Emerging Explorer, and in 2015, he was named a TED fellow, the first paleontologist in the history of the program.
National Geographic Live, National Geographic's touring speaker series, features Nizar Ibrahim, Kara Cooney and Joel Sartore. sharing behind-the-scenes stories from the front lines of exploration alongside stunning imagery and gripping footage.
Tickets for all three of the National Geographic Live speakers are $95, or purchase VIP seats, including a meet and greet with all speakers, for $175. Single tickets are also available for purchase. Tickets sold online at TheHanoverTheatre.org, by phone at 877.571.SHOW (7469) or at The Hanover Theatre box office located at 2 Southbridge Street in downtown Worcester.
Paleontologist Nizar Ibrahim
Spinosaurus: Lost Giant of the Cretaceous
Monday, March 16 at 7:30 p.m.