Bring your family, students, scouts, or youth group on a unique overnight adventure.
Enjoy a night of hands-on thematic programming and exploration! Designed for groups of children ages 5-14, overnights at the EcoTarium are educational, interactive, and FUN!
A Night Journey is a special hands-on overnight program at the museum focused on a scientific theme. Guests will engage in science and nature, see live animal exhibits, and sleep among the exhibits! All youth attending will receive a free admission pass to return to the EcoTarium for a future visit. Night Journey program cost includes an evening snack and simple breakfast for all participants. Once the Alden Digital Planetarium is open post-renovation, Night Journey programs will also include a planetarium show.
COVID- 19 Guidelines for Night Journeys
COVID- 19 Guidelines for Night Journeys:
Staff will be fully vaccinated against COVID-19 or must provide proof of a negative COVID-19 test weekly.
All Night Journey participants both youth and adults, will need to show proof of full vaccination status. Participants will be considered fully vaccinated if they have received a booster within 14 days of becoming eligible. Proof of vaccination can be submitted via email to overnight@ecotarium.org. Any participants who are not fully vaccinated will need to have a COVID-19 PCR test within 72 hours before the program and submit a negative result.
Face masks are recommended for all guests, per EcoTarium policy on this webpage.
Face masks will be required for unvaccinated individuals (ages 2+) at all times while indoors. 
Our COVID-19 safety guidelines are intended to keep our greater community safe while allowing participants to engage with each other and have a great experience. Any developments relating to COVID-19 (vaccine eligibility, infection rates, etc.) may lead to updated policies aligned with national, state, and local guidance. The most up-to-date policies will be listed on this webpage.
Any significant updates to Night Journey policies will be sent out to registered group leaders with updated information regarding any changes to our programming and preparing for Night Journey. The expectation is group leaders share all the information with participants before arriving for their Night Journey. 
When: September through June on select Thursday, Friday, and Saturday evenings.
Required Group Size: Night Journey programs will run with attendance of 35 guests (youth and adults) or more. Groups of 60 or more guests are guaranteed a private Night Journey program. Groups smaller than 35 guests are welcome and encouraged to register, however program delivery is dependent on additional enrollment from other groups. Groups will be notified at least one month in advance of program if there is insufficient enrollment. All Night Journey programs are co-ed except for Girls and Boys Night Out. Family Night Out Events, do not need 35 guest min but each family group must have a min of one youth and one adult.
Age requirement and ratio: 5 years of age or older. Minimum required ratio for all Night Journey programs is 5 youth to 1 adult.
Schedule:
5:15 p.m. – Arrival and check-in begins
6:30 p.m. – Programming begins
10:00 p.m. – Bedtime
7:00 a.m. – Wake up and breakfast
8:00 a.m. – Morning programming
9:30 a.m. – Check out
Sleeping Accommodations: Overnight guests will be sleeping on the floor among the museum exhibits – please plan accordingly.
$60 per person. Prices apply to youth and adults.
Optional Night Journey Experience Patches are available for $1.50 each plus tax (paid in advance with reservation)
Guests may choose to stay and further explore the EcoTarium for the day following their overnight for an additional $5 per person (paid individually that morning or paid in advance at time of reservation)
How to Book Your Overnight Program
Estimate your group size and consider some possible dates.
Email us at reservations@ecotarium.org or call 508.929.2703 to reserve your date at least one month in advance. A $150 non-refundable deposit is required at booking. Many dates fill quickly, so we recommend that groups reserve their date early.
Final group size* and remaining balance are due no later than one month prior to your overnight. Be sure to share the overnight information sheet (shared with you upon registration) with all chaperones.
If your group has members with severe allergies, please let us know at least two weeks in advance of your overnight so that we can help you plan accordingly.
*Please understand that we may not be able to accommodate your group size change if the maximum capacity for the night has been reached.
Night Journey groups will get to enjoy one of the following themes during their program. Group leaders are welcome to share their theme preferences with us before their final payment is due; however, we cannot guarantee that any group will experience their preferred theme.
Crimes, Codes, & Clues 
A night of plot twists and intrigue! Solve an animal-centered mystery using logic, fingerprints, DNA, and codes!
Stars & Space 
Zip around the solar system in our planetarium, explore Mars, and land your own spacecraft on the red planet! Observe the constellations and, weather permitting, take a look through a telescope! Please note that the Stars & Space program is currently not running, and will resume once the Alden Digital Planetarium is open post-renovation.
Science for Wizards
Explore the scientific method and use science to feel like a wizard as you attend 'classes' in some of your favorite magical subjects, such as potions and astronomy! Non-magic folk welcome. Wand and robes encouraged but not required.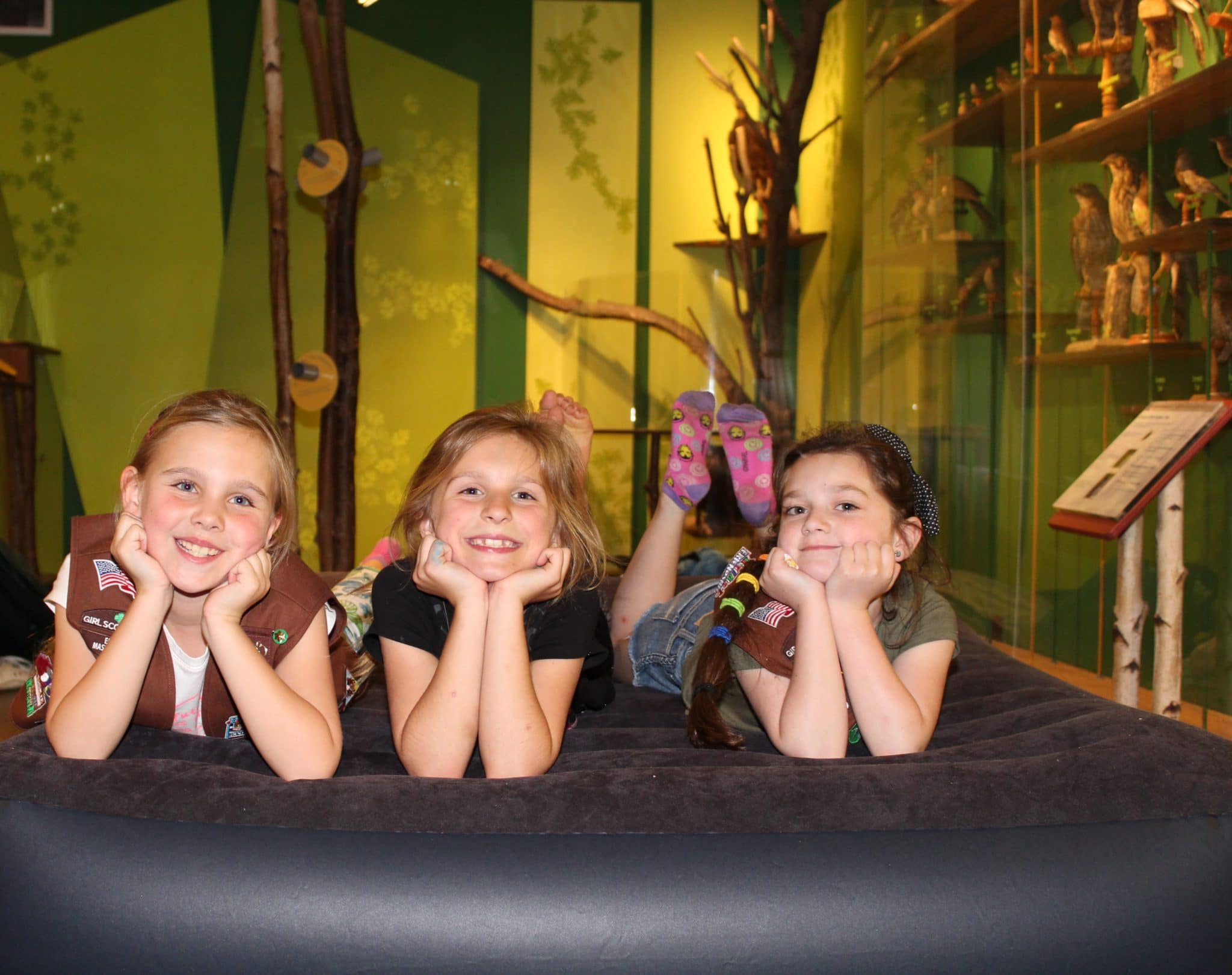 FREQUENTLY ASKED QUESTIONS
How is a Night Journey different from overnights I have attended at other museums?
Night Journeys stand out in several ways! Besides having an awesome overnight staff, our overnights are smaller than those at many other museums and are more focused on the programming theme of the night, with limited time to explore the museum exhibits and grounds. We feel it's important to fill your time with special activities and experiences that you can only get during an overnight – the museum and grounds will always be there for you to explore at other times! Guests who want more time to explore can easily do so with our Museum Day Add-On option, and all guests under 18 receive a return admissions pass to come back for free another day!
How many groups will there be? How many guests will there be?
We limit our overnights to no more than 3 groups or 80 guests, whichever limit is reached first.
Can non-scouting groups attend a Night Journey?
Any group of 35 people or more is welcome to attend a Night Journey! Night Journeys are co-ed, all-ages (5+) events!  This excludes Girl's Night Out and Boy's Night Out events, which are not co-ed.
What if I want to attend an overnight, but my group is smaller than 35 people?
Groups smaller than 35 guests are welcome and encouraged to register, however, program delivery is dependent on additional enrollment from other groups.
Family, school, and youth groups of fewer than 35 are encouraged to reach out to other similar groups in their community to reach a combined total of 35 guests for their reservation. Alternatively, a group may choose to pay for 35 guests, despite knowing that fewer will attend the overnight, in order to qualify for a reservation.
Scout groups of fewer than 35 are invited to make a reservation for one of our Night Out events. Family groups of fewer than 35 people are invited to make a reservation for one of our Family Night events.
Groups will be notified at least one month in advance of the program if there is insufficient enrollment.
My Girl Scout troop is not allowed to attend co-ed overnights. Can we still come to an overnight?
Troops who merely require a physical division (i.e. a closed door or a separate floor of the building) between their Girl Scouts and other co-ed groups during sleeping hours are encouraged to share this requirement with to our Reservations Department (508.929.2703 or reservations@ecotarium.org) at time of reservation. We do our best to accommodate group needs, and we will most likely be able to accommodate your request.
Troops who wish to attend a Girl Scouts Only overnight are encouraged to register for one of our Girls' Night Out events, which are specifically offered for Girl Scouts and have no minimum group size for registration.
What is the role of a chaperone? How many chaperones does my group need to include?
Every group attending an overnight must have at least one adult chaperone present for every five guests under 18 years of age. Chaperones are expected to stay with the youth they are responsible for at all times in order to assist them with activities and enforce behavioral expectations.
Is there an example packing list?
We recommend that overnight guests clearly label their overnight gear with the name of the owner and/or their group name (i.e. pack name, school name, etc.).
Example Night Journey Packing List:
Whatever clothes and layers you need to be comfortable in a variety of temperatures, both waking and sleeping. Like many other older buildings, our museum experiences variable temperatures that can be difficult to adjust, so we suggest dressing in layers for your stay.
Clothing and shoes appropriate for going outside in the predicted conditions.
Any personal hygiene items and medications you need, such as a toothbrush, deodorant, or Tylenol.
A sleeping bag, pillow, and sleeping pad or air mattress (twin size for one, queen size for two).
Flashlight (adults only please), ear plugs, and sleeping mask
Stuffed animals are welcome.
Do Not Bring: Straws, balloons, toy weapons, pets, alcohol, tobacco, marijuana, fireworks, firearms, or other weapons or restricted substances.
We strongly recommend you leave any non-essential electronics and valuables at home. The EcoTarium is not responsible for items lost or stolen during your visit.
A $150 non-refundable deposit is required at time of reservation. The next payment (50% of final total) is due the Friday 6 weeks prior to your event. The final payment (remaining balance) is due the Friday 4 weeks prior to your event. No changes may be made to your reservation after this time.
Can I arrive early to explore the museum?
Please do not arrive before 5:15 pm for your overnight. You are welcome to start exploring the museum as soon as you have dropped off your gear and checked in, unless your group leader specifically asks you to wait for the rest of your group. Night Journey guests who wish to explore the museum before 5:00 pm are welcome to pay standard admission prices and explore the museum as a regular guest until 5:00 pm. At 5:15 they can bring their overnight gear in from their car and check-in for their Night Journey. In this case, when arriving at the museum, please notify the gate attendant that you are also part of the Night Journey for the night so that they can give you a parking pass and a map.
Which program theme will we experience?
You will experience one of three themes: Crimes, Codes & Clues; Stars & Space*; or Science for Wizards. (More information about each theme is available on our website.) Each group leader is invited to share their group's theme preference in advance, but we cannot guarantee that your group will experience its preferred theme. The overnight staff will determine the theme of your Night Journey and you will be notified shortly after your arrival. All groups in attendance on a given night will have the same theme experience.
*The Alden Digital Planetarium is currently closed for renovations with an expected reopening in the Spring of 2022. At this time, we cannot promise that the planetarium will be open to overnight groups but are hopeful that it will be open for use at some time during our Night Journey season.
All guests sleep on the museum floor among the exhibits. Groups are generally assigned a sleeping area within the museum, but there is flexibility if you do not feel that your assigned area will permit you a comfortable rest. We do not promise that your group's sleeping area will be removed from the other groups' sleeping areas.
When does the Night Journey experience end?
Your Night Journey is complete by 9:15 am the following morning.  At that time, the Museum Gift Shop will be open for about a half an hour.  We do need all guests who did not purchase our Museum Day Add-On option to exit the grounds by 9:45 am so that we can prepare the EcoTarium for the upcoming day.
For additional information, please reference our FAQs or the more comprehensive documents as part of your confirmation packet once registered. If you have any additional questions, please email reservations@ecotarium.org.