We are not currently offering our in-person birthday party programs. If you are interested in a facility rental to host your own party at the EcoTarium, please email events@ecotarium.org. Or make your Zoom birthday party WILD by inviting one of our animals!
Looking For A Unique Birthday Idea?
Consider holding your next birthday bash at the EcoTarium. With fun science and nature activities, and a whole museum to explore, children's birthday parties at the EcoTarium are both educational and exciting!
Party time options: 

Saturdays: 10 a.m.-12 p.m., 1:30 - 3:30 p.m. 

Sundays: 11 a.m.-1 p.m. (Nov-Beginning of March), 2:30 - 4:30  p.m. (March-Beginning of Nov)

Optional food packages are available for an additional cost from our onsite food vendor. Please contact Edible Creations by Gerry at (401)-243-7217 or by email melissaecbg@gmail.com. Website: www.ediblecreationsbygerry.com for details.
You may bring your own cake, ice cream and pre-packaged food and drinks (chips, pretzels, juice, soda, etc.) to the party. Other food items may be delivered by offsite licensed food establishments. The front desk will direct the delivery person to the party.
For the safety of our animals, we ask that you do not bring balloons, piñatas or straws (including juice box straws) to the party as these items can be hazardous to their health.
Please arrive 20 minutes early for your party. To be able to fit in all of the fun activities, please be on time! Guests will be directed to your party room when they arrive.
Parties last for two hours, after which the room must be vacated; however, you and your guests are welcome to enjoy the museum and grounds afterwards until closing.
Contact the reservations team:
Tuesday - Friday 10 a.m. - 4 p.m.
508.929.2703 or reservations@ecotarium.org
Tots and Tails
For this birthday party designed especially for toddlers (ages 2 to 4), you invite your child's friends to bring along their favorite stuffed animal. The birthday child and guests will make an animal mask for themselves, put on a matching tail, and then decorate a party hat for their stuffed animal buddy.  Then they'll all parade through the EcoTarium, past all kinds of exhibited animals, to the delight of everyone watching!
Afterwards, there will be time for cake and gifts, plus an assortment of birthday party games (including Feed Slydell the Otter, Siegfried Says, and Animal Bingo).
Glow-In-The-Dark Explorations
What makes things glow? Why do certain colors of the rainbow hold more energy than all the rest? Join us at the EcoTarium for a hands-on birthday adventure that explores these questions in a light-hearted and fun way.
We'll darken the room as you and your friends experiment with light and glow boards to create your own glowing stories!
Before the lights come back on, you'll even receive a visit from a live animal that glows under black light.
Plus, you and your friends will each make your own glow-in-the-dark craft to take home as a reminder of your special day at the EcoTarium.
Dino Dig!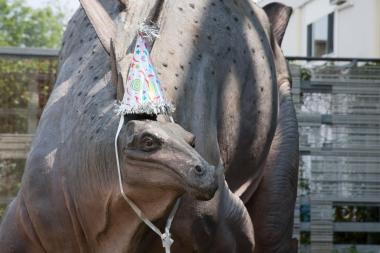 Join in an excavation to discover dinosaur bones and other ancient fossils once locked deep in the earth. Use a variety of tools and techniques to bring these fossils to the surface. Afterwards, we'll also complete a fun take-home dino activity that's sure to impress any paleontologist.
Then, join in a fun dinosaur game or two! After game time, we will march to the lower courtyard of the museum to take a group photo with the EcoTarium's own dinosaur, Siegfried the Stegosaurus. Be sure to bring a camera!
Science Investigators!
Welcome fellow scientists to our Science Investigators Party! During this party, we'll be conducting some fun simple science experiments together involving chemistry and water. You'll even be able to bring home your own slimy experiment. And that's not all the scientific fun! We'll also play some science games that are sure to cause a stir! So put on your safety goggles and come join us in the lab!
Blast Off!
What is more exciting than exploring the planets and stars in a rocket ship even if it's only in our imaginations?
In this EcoTarium birthday party, the fun starts with making your own stomp rocket! When finished, it's time for the final countdown and blast-off! How high can you make your rocket fly? Launching is held indoors or outdoors, depending on the weather.
Everyone gets to take their rocket home, along with instructions on how to make more to continue the fun!
And what's a party without games? You and your fellow astronauts will need to be prepared to have your space and physical skills tested with a round of space trivia or space twister!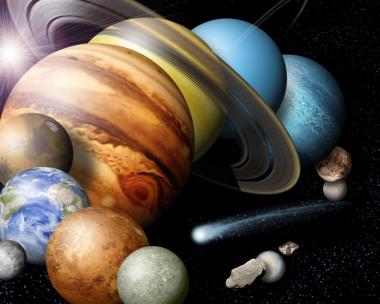 Each Birthday Package Includes:
A private room for two hours, includes time for cake and gifts if you choose
Host(s) to assist you for the length of your party
Downloadable party invitation and thank-you notes
Return visit pass for all children attending
$10 gift certificate to the EcoTarium Museum Shop for the birthday child (or two $5 gift certificates for a double party)
Cost
$285 (Members $255): up to 15 children/ 30 people in total including adults (under 2 are free, not included in the count); 1 Host, regular party room
$380 (Members $350): up to 20 children/ 40 people in total including adults (under 2 are free, not included in the count); 2 Hosts, large party room
Explorer Express train ride: add $3 additional per person
Planetarium show: add $5 additional per person
Colorful Paper Goods: add $50

Animal Add-on-Reptile-$50, Bird/Mammal-$65 (Saturday parties only)

A $150 non-refundable deposit is due when booking.
Food options available for an additional charge Menu