We are thrilled to help our community get outside and be together as a family during this time.  Please note that the Governor has issued a "Safer At Home" advisory and we ask that you please stay home if you have any symptoms of COVID-19 or are considered to be in a high risk category. This will help protect you, our guests, our staff, and our animals! All guests will be required to wear masks unless it is medically impossible to do so.
The EcoTarium museum of science and nature outdoor grounds will  re-open to the public on Thursday, June 4, 9 a.m. - 6 p.m.
Current Museum Operating Hours: Thursday- Sunday 9 a.m. – 6 p.m. (CLOSED Monday-Wednesday)
All tickets need to be purchased in advance of your arrival, tickets will not be sold at the gate in accordance with the Governor's orders.
For important admission information and all reopening details, please visit: Reopening Information
Exploring the natural and physical sciences
The EcoTarium's museum building features three floors of hands-on, interactive exhibits that explore the natural and physical sciences and our New England environment.
Each year, the museum welcomes dynamic traveling exhibits, as well as houses permanent installations that make creative use of the museum's natural history collection and living wildlife.
Hours of Operation:
The EcoTarium is closed on most Mondays, and on Thanksgiving and Christmas Day.
Tuesday through Saturday 10:00 a.m. - 5:00 p.m.

Sunday 11:00 a.m. - 5:00 p.m.
In the case of severe weather, the museum will follow the operation schedule of Worcester Public Schools: if they are open, we are open; if they are closed, we are closed. You may also call 508.929.2700 for information on museum closings. School delays do not impact museum operations.
---
Did you know? If you become a member of the EcoTarium during your visit, you can apply your admission fee to the cost of your membership.
What to See & Do at the EcoTarium:
Travel through space in the Alden Digital Planetarium
Take in a Science Discovery program
Walk around scenic nature trails and expansive grounds
Learn about animal habitats and meet animal residents
Catch a ride on the Explorer Express Train: April-November
---
Items For Rent on Museum Grounds:
Locker: $3
Single Stroller: $7
Double Stroller: $9
Wheelchairs: $9
ECV scooter $20
Museum Shop
EcoTarium's Museum Shop shelves are overflowing with unique treasures and fun gifts to fit all ages, interests and budgets. Come browse our wide selection of plush toys and puppets, science kits, children's books, giftware, field guides, and plenty more.
Gift Passes to visit the EcoTarium and Museum Shop Gift Certificates are available.
EcoTarium members receive 10% off purchases in the Museum Shop! Not a Member? Join or renew today.
Store Hours
Tuesday through Saturday, 10 a.m. to 5 p.m.
Sunday, 11 a.m. to 5 p.m.
Unique Gift! Art work created by our own resident wildlife
Atomic Earrings - made with a 3D printer!
Book variety
Crazy Aaron kits
Dinosaur-themed children's picture books, puzzles and more
Fairtrade and handmade products
KEVA Building Kits
Kikkerland gadgets and toys
Nature-inspired jewelry
Recycled bottle glassware
Rubberband jewelry
Science and robotics kits
Tangoes puzzle games
Wearables
Located on the Upper Level of the museum. Admission is waived for those who only have time to shop.
Thank you for your patronage. Your purchases support the EcoTarium's mission and our innovative programs, exhibits and wildlife.
For information, contact store@ecotarium.org or call 508.929.2720.
Take a virtual tour of the museum and explore exhibits wherever you are!
Transportation: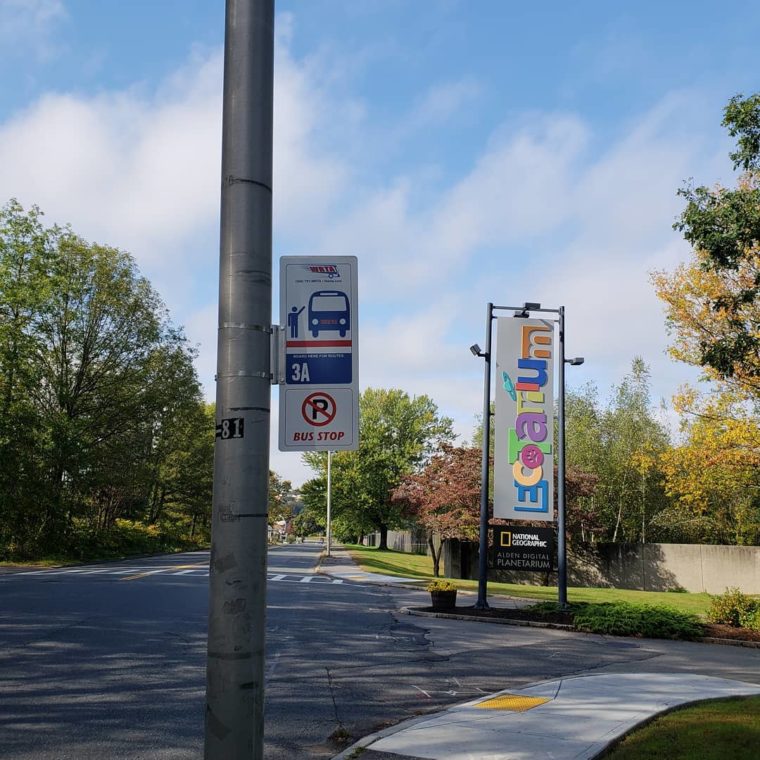 Worcester Regional Transit Authority Bus 3/3A stops at the EcoTarium!